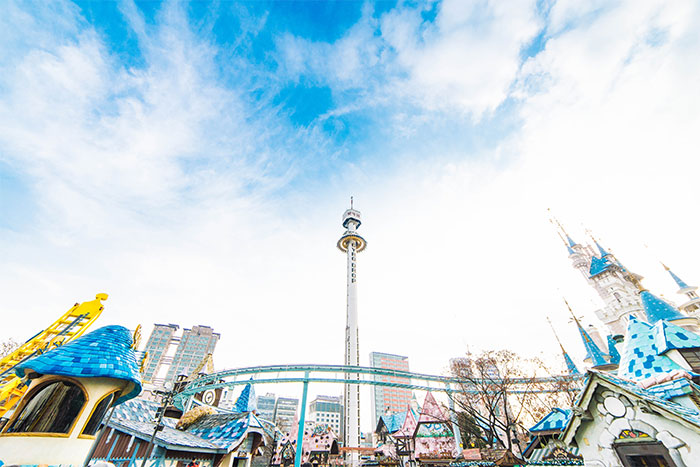 Like all countries, Korea has representative attractions that tourists must see when visiting. Among the attractions are those that are especially loved by international tourists. To help you decide where to go, Korea Tourism Organization has created a list of the top 10 most searched attractions in Korea. These attractions are perfect for adding to your tour schedule! If you only have a short amount of time, you can select a themed course of similar attractions. If your schedule allows, you can follow our three-day tour of all 10 attractions. No matter which option you choose, keep reading to find our travel tips for each attraction to make your visit much more enjoyable'
Gyeongbokgung Palace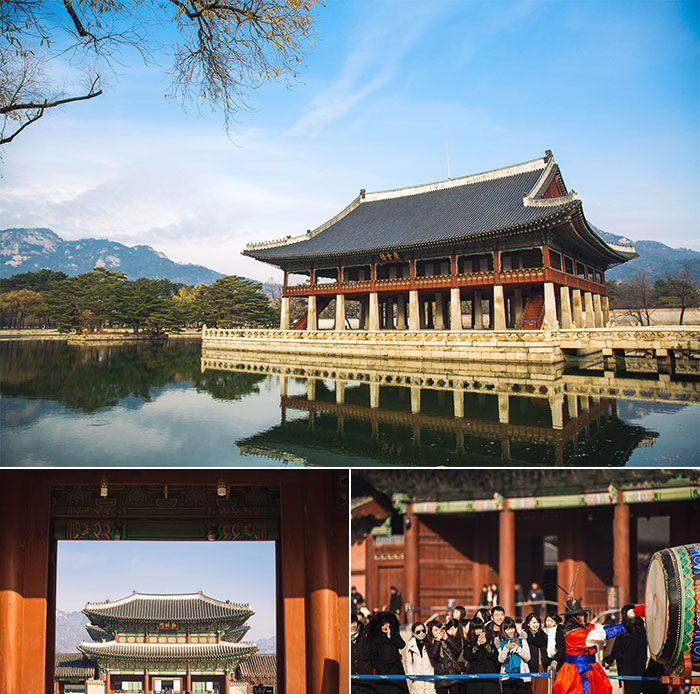 Gyeongbokgung Palace was the major legal residence of the Royal Family during the Joseon Dynasty. Carrying a meaning of "a place where the new king can enjoy prosperity of great blessings," this was the first palace of the Joseon Dynasty. The palace is unique for its vast area and harmony of buildings, and is the only palace to have all four major gates still remaining to this day.
Within the palace grounds, you can see a multitude of restored buildings. Visitors will enjoy looking at the variations among buildings, each serving a unique purpose. Of course, even before entering the palace, tourists enjoy gathering at Gwanghwamun Gate to watch the Royal Guard Changing Ceremony; be sure to time your visit to include this cultural performance in your tour.
TIP) Special tour of Gyeonghoeru Pavilion (Reserved tour): The beauty of Gyeongbokgung Palace is Gyeonghoeru Pavilion! Used as the venue for royal banquets in the past, Gyeonghoeru Pavilion is now open for special tours with advanced reservation (Tel. +82-2-3700-3904, English, Japanese, Chinese). The tour takes approximately 40 minutes. Please note that the tour does not operate in winter (November-March)
☞ Address: 161, Sajik-ro, Jongno-gu, Seoul
☞ Directions: Gyeongbokgung Station (Seoul Subway Line 3), Exit 5. Walk approx. 3-5min.
☞ Operating hours: Monday, Wednesday-Friday 09:00-18:30
※ Closed Tuesdays / December-February, close at 17:00
☞ Admission: Adults 3,000 won / Teenagers & Children 1,500 won
☞ Website: www.royalpalace.go.kr (Korean, English)
---
Namiseom Island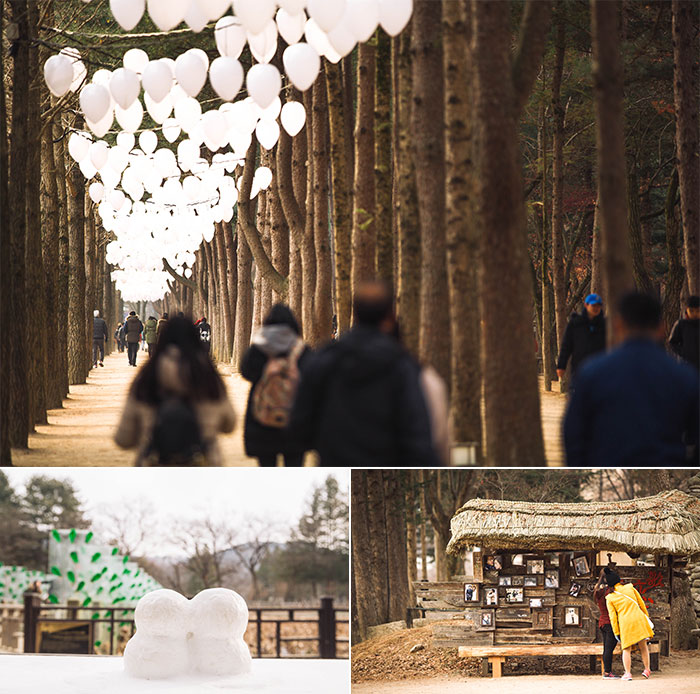 Chuncheon's Namiseom Island is famous as a filming site for the popular drama "Winter Sonata (2002)." Originally a hill, the island was formed due to the water level rising after Cheongpyeong Dam was built downstream. It can take a few hours to see all the attractions of the island, but they are so magnetic, tourists easily lose themselves in the charms. The island's major draw is the coexistence between humans and nature, and preservation efforts are visible through the artistic use of recycled materials like glass and plastic bottles for decorations.
TIP) Souvenir photo spots: The best places to visit on Namiseom Island are Metasequoia Lane and Ginkgo Tree Lane. Frequently featured in dramas and movies, these two walking paths are at top of the list for visiting Namiseom Island. Even self-professed horrible photographers can easily take a beautiful souvenir photo here!
☞ Address: 1, Namiseom-gil, Namsan-myeon, Chuncheon-si, Gangwon-do
☞ Directions (Namiseom Dock): Take a taxi for approx. 5-10 min. from Gapyeong Station
※ Namiseom Island is accessible via ferry from Namiseom Dock
☞ Operating hours (Namiseom Ferry): 07:30-21:40
☞ Admission: Adults 10,000 won / Teenagers (Middle∙High school) 8,000 won / Children (Age 3 – Elementary school) 4,000 won
※ International tourists can receive discounted fee of 8,000 won.
※ Admission includes round-trip ferry ticket.
☞ Website: namisum.com (Korean, English, Japanese, Chinese)
---
N Seoul Tower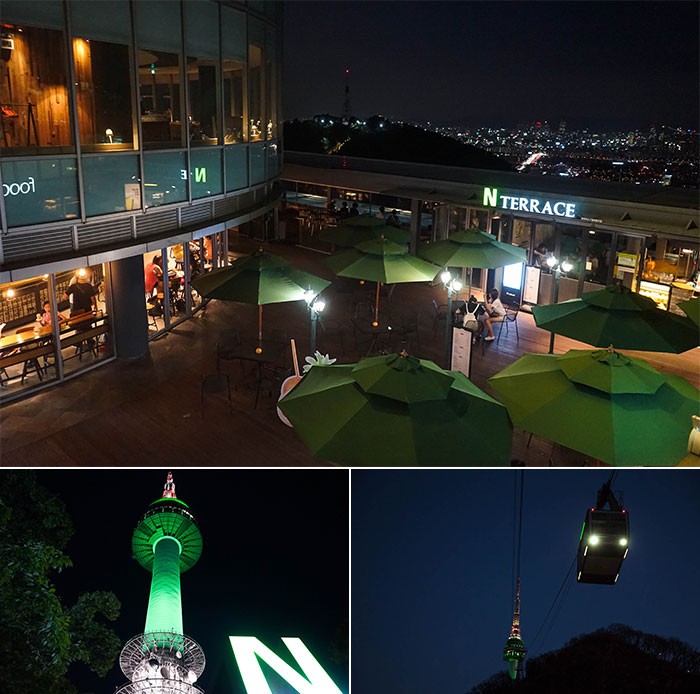 Seoul's landmark attraction is none other than N Seoul Tower, located atop Namsan Mountain in the center of the city. The tower draws in visitors year-round, and is most famous for the view it offers of the cityscape at night. For hallyu fans, the tower is a must-visit attraction, having been featured in dramas like "My Love From the Star (2013)" and "Legend of the Blue Sea (2016)."
The circular tower features not only an observation deck, but also atmospheric cafés and restaurants among other facilities. N Seoul Tower is a great place to spend an enjoyable evening with friends or loved ones, taking in the beautiful nightscape over a cup of coffee.
TIP) The secret of N Seoul Tower's color: The light on the pillar of N Seoul Tower is not random; the light changes with the concentration of micro dust in the air. A blue light indicates clear air with little dust, green indicates an average amount of dust, while a red light signals an extreme amount of micro dust in the atmosphere.
☞ Address: 105, Namsangongwon-gil, Yongsan-gu, Seoul
☞ Directions
• Public transportation: Chungmuro Station (Seoul Subway Line 3, 4), Exit 2 → Take Namsan Circulation Bus No. 02 to N Seoul Tower Bus Stop → Walk approx. 5min. to N Seoul Tower.
• Namsan Cable Car: Myeongdong Station (Seoul Subway Line 4), Exit 3. Take a taxi for approx. 10min.
☞ Operating hours (Observatory): Sunday-Friday 10:00-23:00, Saturday 10:00-24:00
☞ Admission (Observatory): Adults 10,000 won / Children 8,000 won
※ Adult fare applies from age 13, and child fare applies to ages 3-12. Children under 3 years of age enter free of charge
☞ Website: www.nseoultower.com (Korean, English)
---
Bukchon Hanok Village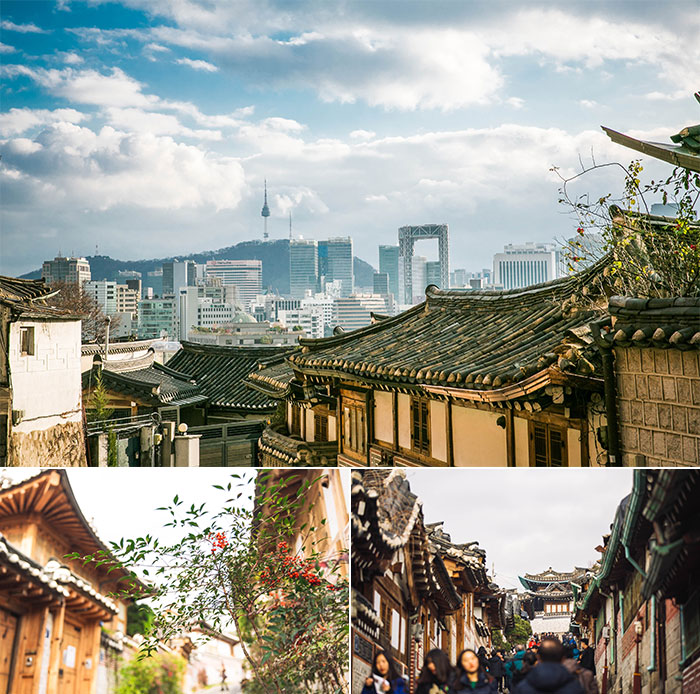 Photo: Scenes from streets in Bukchon Hanok Village
A representative attraction of Seoul, Bukchon Hanok Village shows the charm of Korea's traditional buildings. The neighborhood where relatives of the royal family lived, the hanoks here are grand, providing beautiful scenes down every lane. To make the most of your visit, we recommend finding the "Eight Scenic Spots of Bukchon." These eight locations are each unique but share the similarity of being breathtaking. Your souvenir photos will turn out great with these spots in the background!
TIP) Respectful touring of Bukchon Hanok Village: Unlike Namsangol Hanok Village, Bukchon is a private neighborhood where people actually live. Therefore, it is important to respect the villagers by not shouting or making loud noises. The beauty of the houses can be exciting, but please tour in a polite manner so everyone can enjoy the experience!
☞ Address: 37, Gyedong-gil, Jongno-gu, Seoul
☞ Directions: Anguk Station (Seoul Subway Line 3), Exit 2. Walk approx. 7-10min.
☞ Website: bukchon.seoul.go.kr (Korean, English, Japanese, Chinese)
---
Lotte World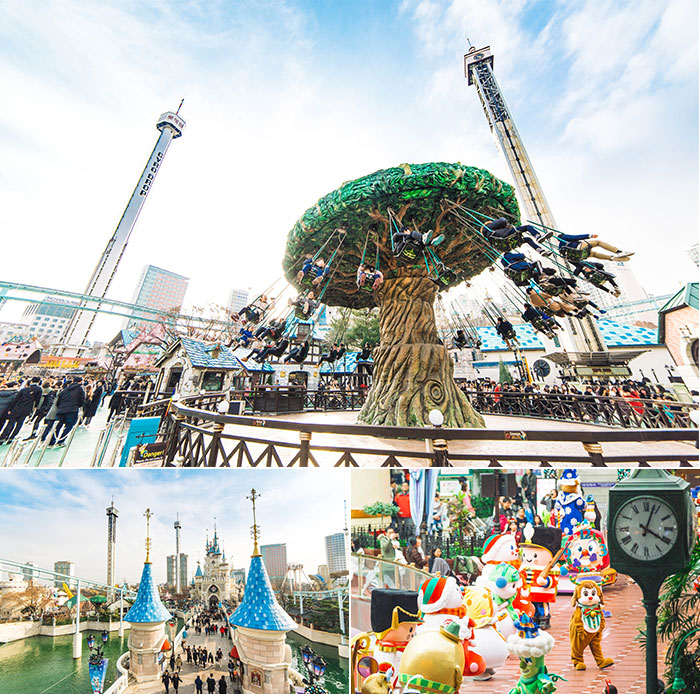 Photo: Swing Tree ride (top) / Scenery of Magic Island (bottom left) / Parade performance (bottom right)
If you are looking for a fun place to spend a whole day, check out Lotte World! This amusement park is open all year round, with dynamic events and performances. Even better, the park is located in downtown Seoul and is easily accessible via public transportation. The park is largely divided into two areas: Adventure located indoors, and the outdoor section of Magic Island. Adventure includes a plethora of attractions, including a carousel, Spanish pirate ship, flume ride and more, while Magic Island has big thrill rides like the Gyro Drop and Gyro Spin.
TIP) Enjoy more with the Magic Pass! The Magic Pass allows for ride reservation, cutting down on the wait-time for attractions, and is only available for one-day ride pass and membership holders. To use the Magic Pass, download the mobile application (Korean, English, Japanese, Chinese) or look for a "Magic Pass" kiosk at the park. After checking available rides on your app or kiosk, make your reservation! Note that Magic Pass can only be used up to three times per day so make your selection carefully!
☞ Address: Lotte World, 240, Olympic-ro, Songpa-gu, Seoul
☞ Directions: Jamsil Station (Seoul Subway Line 2), Exit 4. Walk approx. 5min.
☞ Operating hours: Monday-Thursday 09:30-22:00, Friday-Sunday 09:30-23:00
※ Extended operations until 23:00 on weekdays during peak season
☞ Admission: Adults 41,000~52,000 won / Teenagers 36,000~45,000 won / Children 32,000~41,000 won / Infants 13,000 won
※ Above fares are for one-day ride pass
☞ Website: www.lotteworld.com (Korean, English, Japanese, Chinese, Thai, Russian, Vietnamese, Indonesian, Mongolian)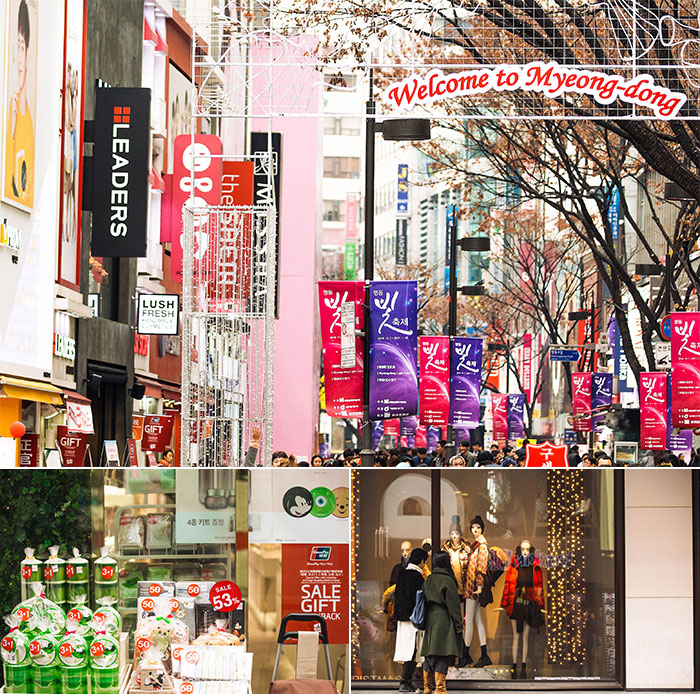 Photo: Brand shops line Myeong-dong (top) / Cosmetic store (bottom left) / Tourists checking out the clothes in a window display (bottom right)
The area of Myeong-dong is filled with unique street foods and plenty of things to see! A district of fashion and shopping, many young Koreans and international tourists seek out great deals and the latest trends. Myeong-dong stretches approximately 1km from Myeongdong Station (Seoul Subway Line 4) to Eulji-ro and Lotte Department Store. The streets are lined with department stores, duty free stores, and various brand shops. Even if shopping isn't really your thing, you can still enjoy Myeong-dong by trying the street foods and many famous restaurants in the area!
TIP) Cosmetics are a Myeong-dong must!
Myeong-dong has been called "Beauty Road" due to the many cosmetic shops gathered in one area. This dense cluster of shops is great for tourists for two reasons. Not only can you find all the major brands here, but the shops do their best to out-do the others by offering sales, discounts, and plenty of freebies with every purchase!
☞ Address: Myeongdong-gil, Jung-gu, Seoul
☞ Directions: Myeongdong Station (Seoul Subway Line 4), Exit 7. Walk approx. 2-3min.
---
Namdaemun Market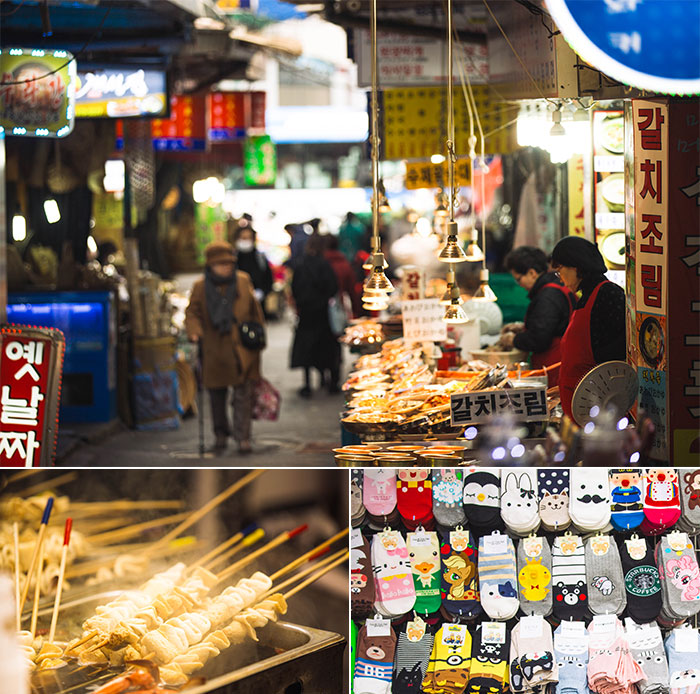 Photo: Namdaemun Market abounds with street foods (top, bottom left) / Socks in colorful designs (bottom right)
Namdaemun Market is the largest market in Korea, with a history spanning over 600 years. Located in the eastern section of Jung-gu in Seoul, this vast marketplace has everything from clothing goods in every style to textiles, kitchen supplies, electronics, traditional crafts, specialty products, farming goods, foods of every kind, imported goods and more. Each shop is rather small, limiting the amount of goods available, but the shops are all privately owned meaning customers can benefit from the lower prices of direct purchasing.
TIP) Namdaemun Market Galchi Alley: When visiting Namdaemun Market, a stop at Galchi (beltfish) Alley is a must! This section of the market is lined with restaurants serving galchi jorim (stewed beltfish). Just one bite is enough to get you hooked. The tender fish goes great with refreshingly crisp white radish.
☞ Address: 21, Namdaemunsijang 4-gil, Jung-gu, Seoul
☞ Directions: Hoehyeon Station (Seoul Subway Line 4), Exit 3. Walk approx. 5min.
---
Lotte Department Store – Main Branch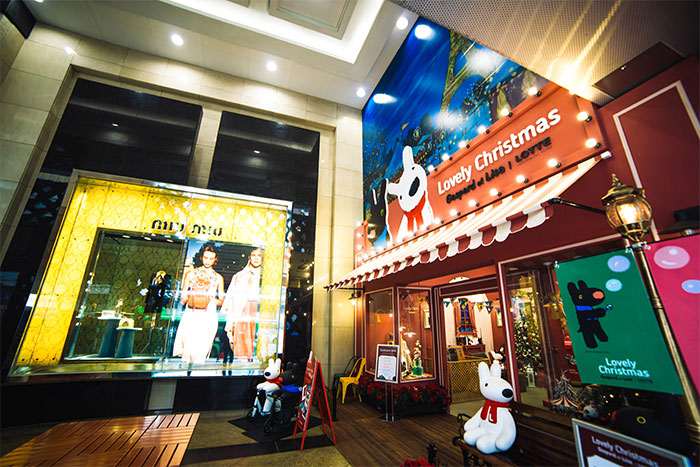 Opened in 1979, Lotte Department Store is one of the Korea's major department stores. The main branch has expanded over the years to include Avenuel, Young Plaza, Lotte Duty Free and more for an all-in-one shopping venue. Continuing their efforts to provide better services, Lotte Department Store now offers immediate tax refund, as of February 2016. For purchases over 30,000 won and under 200,000 won, tourists can pay without the 10% VAT that would normally be charged, providing a tax free shopping experience. Please note that the immediate tax refund is limited to a value of one million won per day.
dddddddddddddd
TIP) Visual treat at Lotte Department Store: The Christmas display set up throughout Lotte Department Store until the New Year will draw the eye. This year's theme features "Gaspard and Lisa," characters created by a French artist-couple. The first floor features a giant pop-up book and photo zone that are great for photos!
☞ Address: 81, Namdaemun-ro, Jung-gu, Seoul
☞ Directions: Euljiro 1(il)-ga Station (Seoul Subway Line 2), Exit 7. Walk approx. 2-3min.
☞ Operating hours: 10:30-20:00
※ Hours extended 30 minutes Friday-Sunday
☞ Website: store.lotteshopping.com (Korean, English, Japanese, Chinese)
---
Insa-dong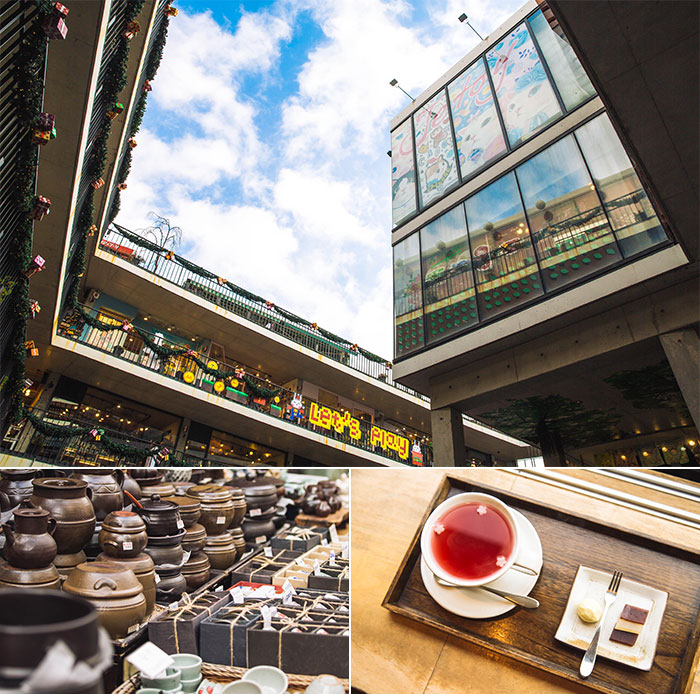 Insa-dong is often referred to as the "Street of Traditional Korean Culture." The main thoroughfare is lined in shops selling traditional crafts and souvenirs, while the many side-streets off the main road feature restaurants and cafés serving traditional foods and teas in hanok buildings. There are an endless number of things to see here, but Ssamzigil tops the list. The structure of the building itself is unique, built in a square shape symbolic of the Korean letter 'ㅁ' with a single continuing pathway slowly winding up the building from the basement level to the fourth floor. Along the path, you can see art galleries, shops selling traditional handicrafts, furniture, and more. The fourth floor opens up into a sky garden which offers a bird's-eye-view of the streets of Insa-dong.
TIP) Experience Korean culture in Insa-dong: In addition to things to see, Insa-dong offers enjoyable experiences in Korean culture. Visitors wanting to try on hanbok can visit Insa-dong PR Center, and we recommend visiting Museum Kimchikan for tourists interested in Korea's food culture.
☞ Address: 62, Insadong-gil, Jongno-gu, Seoul
☞ Directions (Ssamzigil): Anguk Station (Seoul Subway Line 3), Exit 6. Walk approx. 5min.
---
Banpo Bridge Rainbow Fountain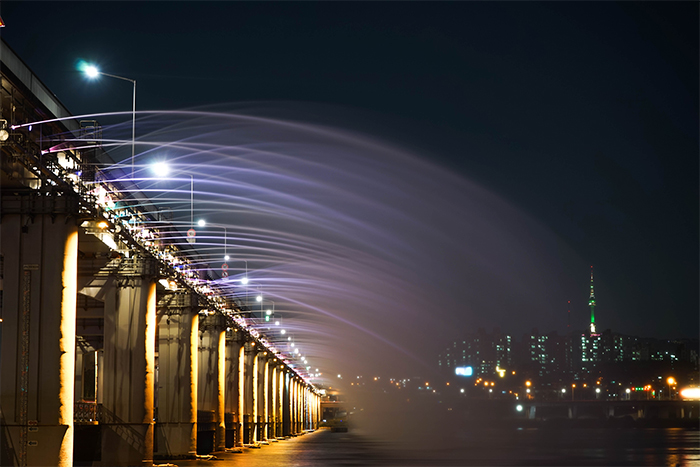 The romantic atmosphere of the nightscape found at Banpo Bridge Rainbow Fountain has been featured in popular dramas "Boys Over Flowers (2009)" and "Iris (2009)." The bridge was recorded in the Guinness Book of World Records in 2008 for being the world's longest bridge fountain. The rainbow fountain stretches along 570m of Banpo Bridge, with 380 jets of water shooting out from the bridge, a new spin on fountains which usually shoot up from the ground. Over 200 lights create the rainbow effect on water that dances to music. The fountain show can be seen four to five times on weekdays and five to six times on weekends. Unfortunately, the fountain show does not take place during winter (November-March) in order to protect the pipes from bursting in freezing temperatures.
TIP) Enjoy the nightscape at Some Sevit: Located near Banpo Bridge are artificial floating islands that give shape to an image of flowers floating on the river. With a name meaning "three islands of light," it is no wonder that the islands are beautiful by night. When looking at the bright islands beside the rainbow fountain, it is easy to imagine flowers blooming in the night.
☞ Address: Banpo-dong, Seocho-gu, Seoul
☞ Directions: Express Bus Terminal Station (Seoul Subway Line 3, 7, 9), Exit 8-1. Take a taxi for approx. 7-10min.
☞ Operating hours (Rainbow Fountain lighting times)
– April-June, September-October: 4 times on weekdays (12:00, 20:00, 20:30, 21:00), 5 times on weekends (12:00, 19:30, 20:00, 20:30, 21:00)
– July-August: 5 times on weekdays (12:00, 19:30, 20:00, 20:30, 21:00), 6 times on weekends (12:00, 19:30, 20:00, 20:30, 21:00, 21:30)